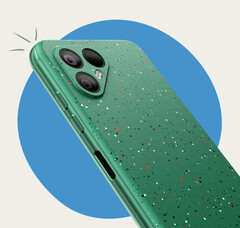 Fairphone is now rolling out the first significant OS update to the Fairphone 4. The company hopes to deliver Android 13 in a more timely manner too, although not all regions are eligible for the Android 12 update yet.
Fairphone has started rolling out the first major OS update to the Fairphone 4, which remains the company's most recent smartphone. Fairphone announced the Fairphone 4 in September 2021, shortly before Google introduced Android 12. As such, the Fairphone 4 ships with Android 11, even in 2023.
Thankfully, the Fairphone 4 can now be upgraded to Android 12 in most regions. For some reason, the 'current performance' of the Android 12 update in France and Switzerland does not meet Fairphone's expectations. The company has not revealed when this update will be available in either country, but an employee explained the following:
The upgrade will be made available to almost everybody on the 1st of February. Still, sometimes it may take a couple of days for the notification to show up on your device. If you read that some users already got the upgrade, but you still haven't, give it a few days.

Regarding the delay for some operators, I can't say how long it will be. All I can say is that it won't be counted in hours/days, but in weeks/months. I'll post an update when I know more.
Additionally, Fairphone hopes that the incremental nature of Android 13 will simplify development compared to the major changes that Google made between Android 11 and Android 12. The same employee remarked that Fairphone will share an Android 13 timeline following the release of Android 12, although nothing has been posted on the Fairphone community forums yet. SP1Y.B.0041 should be available to download now with the December 2022 set of Android security patches. Please see the company's community post for more information.
Related Articles
Alex Alderson – Senior Tech Writer – 7291 articles published on Notebookcheck since 2018
Prior to writing and translating for Notebookcheck, I worked for various companies including Apple and Neowin. I have a BA in International History and Politics from the University of Leeds, which I have since converted to a Law Degree. Happy to chat on Twitter or Notebookchat.
Alex Alderson, 2023-02- 4 (Update: 2023-02- 4)