By
Justin Curto,
who covers music, TV, and celebrity for Vulture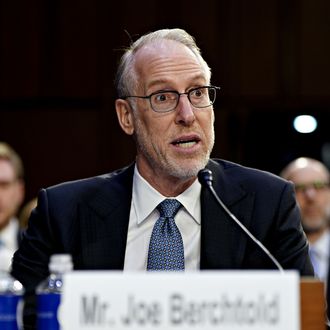 Photo: Al Drago/Bloomberg via Getty Images
Hours into the Senate's hearing on ticketing, Senator Ted Cruz asked the obvious: "In your judgment, is Ticketmaster a monopoly?" Four of the five witnesses said "yes," while the fifth, Clyde Lawrence of the band Lawrence, claimed he wasn't sure. (His collaborator Jon Bellion would disagree, after calling Live Nation a monopoly on their joint 2021 song "False Alarms.") Cruz then turned to Joe Berchtold, the CFO and president of Live Nation, which merged with Ticketmaster in 2010, to ask for his response. "We absolutely believe the ticketing business has never been more competitive," he said.
It was one of many moments that illustrated the slant of the hearing and the appetite to do something about Live Nation and Ticketmaster in the wake of ticketing failures for tours for Taylor Swift, Bruce Springsteen, and more artists. The months-in-the-making Senate hearing, spearheaded by antitrust-hawk senator Amy Klobuchar, had been as hotly anticipated as a governmental hearing could be; as Klobuchar noted, a few Swifties even protested outside Congress. It would have been unthinkable just three months ago, before Ticketmaster's crashes during presales for Swift's "Eras Tour" caused the company to cancel the general on-sale and gave way to multiple investigations. That mess also put thousands, if not millions, of fans' eyes on the 2010 merger of Live Nation, an event-promotion company, and Ticketmaster, a ticketing company.
Klobuchar opened by plainly calling Live Nation a monopoly, echoing comments she made amid the "Eras Tour" issues last year and as far back as 2009, during the hearing for the Live Nation–Ticketmaster merger. While not all her colleagues used the M-word, those who did spanned both sides of the aisle, including conservative firebrands such as Cruz and Senator Josh Hawley. "Mr. Berchtold, I want to congratulate you on an absolutely stunning achievement," said Senator Richard Blumenthal, a Democrat. "You have brought together Republicans and Democrats."
Berchtold's defenses resorted to blaming issues on bots crowding Ticketmaster servers and scalping tickets and to claiming that Live Nation and Ticketmaster hold a lower market share than most public statistics show. (He also cited a statement of support from Garth Brooks, who wrote that bots and scalpers are an issue "NO MATTER WHO THE TICKETING SELLING COMPANY is.") But Berchtold's statements largely didn't hold up in the hearing. "For a leading ticketing company to not be able to handle bots is, for me, a pretty unbelievable statement," said Jerry Mickelson, the co-founder of independent event-promoter Jam Productions, who previously testified against the Live Nation–Ticketmaster merger in 2009. When senators and witnesses alike said venues worried about previously documented retaliation by Live Nation promoters for not using Ticketmaster, Berchtold simply said retaliation was "absolutely not our policy." Mickelson and Jack Groetzinger, CEO of rival ticketing company SeatGeek, both disagreed, saying it was common to hear from venue owners worried about losing Live Nation shows if they didn't work with Ticketmaster.
Testimony from Lawrence, the singer of an eight-piece "soul-pop" band, provided equally rare insight from artists, who also tend to be wary of criticizing Live Nation. In his opening, he rattled off the endless fees he has experienced when Ticketmaster sells tickets to shows that are promoted by Live Nation and in Live Nation–owned venues. Those included everything from a 10 percent facility fee to a 20 percent cut of merch sales to $250 for ten clean towels. Berchtold responded that venues set ticket service fees, not Live Nation, but Lawrence said every venue he has asked told him that Live Nation sets the fees — and he is often unaware of how high fees will be until tickets go on sale.
The topic did give the senators a bit of leeway for jokes and cute comments. Klobuchar reminisced about seeing Led Zeppelin, the Cars, and Aerosmith as a teen. Cruz asked if Live Nation's dominance in the NFL and NBA meant he could blame them for the Houston Texans and Rockets' abysmal seasons. Sal Nuzzo of the James Madison Institute, a think tank, said his daughters told him that "nothing you speak on in your career will be as important as what you say today," while Lawrence, sitting next to one of his bandmates, called the hearing "the most unique gig we've had in years." And by Vulture's count, the witnesses and senators made no fewer than six Taylor Swift references. Klobuchar got the first in during her opening remarks, decrying consolidation in capitalism as "something that, unfortunately for this country, as an ode to Taylor Swift, we know all too well." Blumenthal's, though, was the most cutting, on Berchtold's incessant blaming of bots: "May I suggest, respectfully, that Ticketmaster ought to look in the mirror and say, 'I'm the problem. It's me'?"
As for solutions? While some senators disagreed on questions of how to fix monopolies, they did seem to rally around a few ideas. Many pushed Berchtold to take scalpers to court under the power of the BOTS Act, which, despite being enacted in 2016, has been used only once by the Federal Trade Commission to crack down on scalpers. Lawrence and Berchtold seemed to agree that Live Nation and Ticketmaster need to be more transparent with artists about where exactly Live Nation's cut of ticket costs — and extra fees — went toward. And senators and witnesses alike were interested in legislating so-called all-in ticket prices that require venues to show the full price of a ticket, including fees, up front. When asked if he'd support all-in ticket fees, Lawrence responded with one caveat: that he still wanted fans to know how much of the cost was fees so they wouldn't blame artists. "That was my second question," Klobuchar replied. "Like, you should be a senator." And Lawrence already had his first proposal ready: "What I really want is for artists to have a say in those fees and for them to be lower."
Senate Piles On Live Nation, Ticketmaster at Ticket Hearing