The department expects the pay corrections will be done after employees get their Jan. 26 pay.
Published Jan 24, 2023  •  1 minute read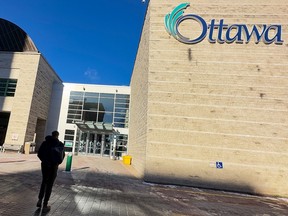 An unspecified "technical issue" affected the pay of thousands of municipal employees and Ottawa Police Service members, according to a staff memo to elected officials.
Regular payroll monitoring of the Jan. 12 pay cycle alerted staff in the payroll, pensions and benefits department to the problem related to employee deductions, director Sharon McLaughlin wrote in a memo to Mayor Mark Sutcliffe and city council.
Sign up to receive daily headline news from Ottawa Citizen, a division of Postmedia Network Inc.
By clicking on the sign up button you consent to receive the above newsletter from Postmedia Network Inc. You may unsubscribe any time by clicking on the unsubscribe link at the bottom of our emails or any newsletter. Postmedia Network Inc. | 365 Bloor Street East, Toronto, Ontario, M4W 3L4 | 416-383-2300
They took "immediate steps" to correct pay adjustments worth more than $50 before employees got their pay, she said in the memo dated Monday and released Tuesday. The pay of about 2,500 employees was adjusted manually.
"These actions prevented overpayment and underpayment situations from occurring and ensured that these employees received complete and accurate pay on January 12, 2023," McLaughlin wrote.
About 7,700 outstanding pay adjustments are of $50 or less and will be reflected in the normal pay cycle ending Jan. 26, McLaughlin said.
The department expects the pay corrections will be done after employees get their Jan. 26 pay and "has carried out ongoing and heightened system monitoring and testing activities
following the correction of the technical issue."