Sharnaz Shahid


Kate Middleton and Prince William held a second summit with Meghan Markle and Prince Harry shortly after their royal wedding. Find out more…

The Duke of Sussex has lifted the lid on all the private discussions between himself and Meghan Markle with the Prince and Princess of Wales during the first years of their romance in his new book, Spare.
From the bridesmaids' debacle to their first awkward encounter with the American actress, Prince Harry has given royal watchers an intimate insight into their fractured bond.
The account compounds his raw accusation on Sunday night's ITV interview with Tom Bradby that William amd Kate had never got on with Meghan. Asked why this was, Harry gave these reasons:
WATCH: Why William and Kate 'never liked' Meghan 
Discussing the reports which suggested Meghan was "Duchess Difficult" and how she left Princess Kate in tears, it has now been revealed that the former "Fab Four" held a second summit at Nottingham Cottage to discuss the growing tension between the two couples.
In his searingly open memoir, Prince Harry revealed how they arranged the get-together on their "turf" on 10 December 2018, shortly after he and Meghan returned to the UK from their first royal tour in Australia.
"We all gathered in our little front annexe, and this time there was no small talk: Kate got things rolling straightaway by acknowledging that the stories in the papers about Meg making her cry were totally false," he wrote.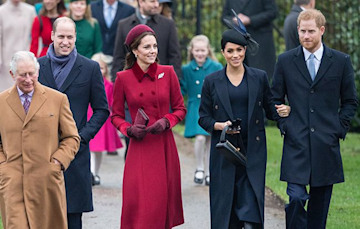 The two royal couples seen together just days after the second summit
The Duke claims that his sister-in-law Kate confirmed: "I know, Meghan, that I was the one who made you cry."
NEW: Prince Harry explains why he labels Queen Consort Camilla 'dangerous' in extraordinary memoir
Exclusive: Prince Harry 'in good spirits' after TV interviews but disappointed over book leak
Meghan appreciated the apology, but they were left wondering why the papers had written this and what was being done to correct the story.
Harry then revealed how Kate was left "flustered" while Prince William offered "supportive-sounding evasions". However, Harry knew nothing would be done by the Palace as the monarchy "had to be protected" at all costs.
The Duke and Duchess of Sussex then shifted the conversation to where had the story come from – who had leaked this to the press.
IN-DEPTH: Inside Prince Harry and Queen Consort Camilla's complicated relationship through the years
"We went around and around," Harry explained. "The list of suspects became vanishingly small. Finally, finally Willy leaned back and conceded that, ahem, while we'd been on tour in Australia, he and Kate had gone to dinner with Pa and Camilla."
"And, alas, [Willy] said sheepishly, he 'might've' let it slip and that there's been strife between the two couples.
"I put my hand over my face. Meg froze. A heavy silence fell. So now we knew. I told Willy you of all people should've known. He nodded. He knew. More silence. It was time for them to go."
Regrettable though William and Harry's discord is, there is cause for hope as British history is littered with rifts between royal brothers far worse than theirs. Here are six fraternal fallouts which turned really nasty.
Make sure you never miss a ROYAL story! Sign up to The Royal Explainer newsletter to receive your weekly dose of royal features and other exclusive content straight to your inbox.